Experienced people that will empower your ideas.
Hekoya The Branding EMBLEMS has been in operation since 1987, providing quality automobile emblem production and sourcing globally to our customers all over the world. Our factory is equipped with high-tech facilities, where the manufacturing of automobile emblems takes place. We are an environmentally conscious company and recycle waste material accordingly.
The employees here have a favorable conditions and a positive working environment. We've attained remarkable success is due to the efficiency and dedication of our team members. All staff have years of experience and training which they utilize to the best of their abilities. The knowledge and skills they bring to the team are what separates our automobile emblem company from the rest.
Our headquarters factory located in China, office in California and Vietnam. Our responsible team of people consists of many departments: production floor, sales & accounting, and design. We function cohesively as a unit and are here to serve you
The team behind all the projects is here.
Quality Assurance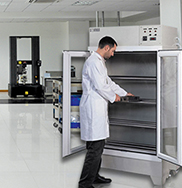 Hekoya produces durable emblems of the utmost quality, which are on par with automobile industry standards. Throughout the entire manufacturing process, zero PPM is our goal. During each step of the product processing, a professional personal will be monitoring according to the technical and quality documents after analysis and approval. The statistical process control is applied to detection of dimension and appearance. We can even make special test according to customers' requirement so as to guarantee the specifications of sample, parameter and standard. During the production process, the size and appearance of each lot of products will be under control.
Quality Standards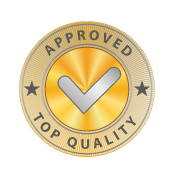 The key factor of making one successful emblem lies in ensuring the input of raw material with conformity and quality. Along with the abundant experiences in formulation development accumulated. We can satisfy the different requirements of automobile and industry standards. We constant do trial and experiment new material to ensure meeting the industry standards
General Motors GM4298P Salt Spray Test
Daimler Chrysler LP-463-PB-10-01 Salt Spray Test
Ford Motor Company BI 103-01 Salt Spray Resistance Test for Painted Panels and Parts
ASTM B117 Standard Practice for Operating Salt Spray (Fog) Apparatus
.
3D Graphic Processing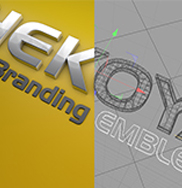 Our manager Orly and team of graphic artists specialize in perfecting your artwork logo, nameplate to suit emblem production. Before implement into production, we reconstruct your logo in different 3D angles images in JPG format and send for authorization. These 3D images are absolutely realistic render which can be simulated to the actual emblem. Our graphic facility is equipped with the instruments to read all format of CAD, UG, NX, Mastercam, Solidworks, and more… The prototype mold making is efficient, which supports customers' application and validate the feasibility of products, and thus ensure the project more effectively.
Mold Creation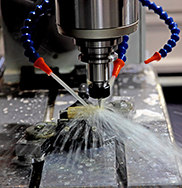 Hekoya has a specialized department for tooling processing. It is separated into three independent workshops for mold design, processing all the molds and tooling fixtures for facilitating the emblem molding process. We use different mold materials according to product characteristic or in compliance with customers' requirement. The planning and design process are completed with internal CAD and CAM software. The thorough planning and process monitoring are for the purpose of ensuring the efficiency and validity of the mold processing. The precision of the operation is ensure with the modern machinery and tools' on operation of staffs with expertise and experiences.
Production Facilities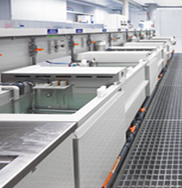 Hekoya Located on a 800 square meters, and possessing multiple units. We have full production line of modern facility electroplating. It has fully automatic control level of copper-nickel-chrome layers, automatic injection molding, and semi automatic pressure electro machine.durability.